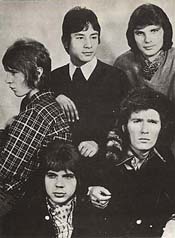 The Tee Set in 1967
(left to right, back) Robbie "Polle" Eduard(bass, vocals), Carry Janssen(drums),Hans van Eijck(keyboards,vocals) (left to right, front Peter Tetteroo(vocals), Ray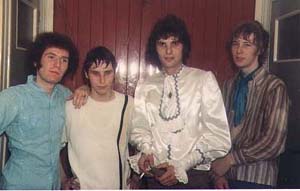 After Tea in Rotterdam, Dec 1967
(left to right)Ray, Martin Hage(drums,vocals), Hans van Eijck(keyboards,vocals) and Polle Eduard(bass guitar, vocals)
In late-1965, Ray was asked by Peter Tetteroo to join the Dutch-based group Tee Set. The group achieved cult status in Holland.

Out of this came After Tea, formed by Hans van Eijck (keyboards and vocals) and Robbie "Polle" Eduard (rhythm guitar).

After Tea enjoyed tremendous success in Holland with several hit singles, including the inventively titled "After Tea".

Ray has maintained his links with the group's charismatic singer, Peter Tetteroo, and Eduard would team up with Ray again for the Minute By Minute project in 1991.

As a result of his work in After Tea, Ray came to the attention of Dutch booking agents. One of whom recommended him to Spencer Davis who was on tour in Holland and looking for a new guitarist...